Event Details
All Hands! is an outdoor production taking place at Marine Cove Gardens, Burnham – On – Sea, TA8 1AW
Tickets are pay what you choose £4 – £20
Thur 3rd Aug 6pm
Fri 4th Aug 2:30pm
Fri 4th Aug 6pm
Sat 5th Aug 2:30pm
Sat 5th Aug 6pm
Sun 6th Aug 2:30pm
Sun 6th Aug 6pm
Wednesday 3rd March 1897. A date ingrained in the memory of Berrow Beach. A date that gave Somerset a monument to treasure. As a howling south westerly gale swept up the Bristol Channel, the Norwegian sailing vessel The Nornen got caught in the lee of the Lundy Roads. The anchor dragged. The sails tore. The cruel winds blew the crew between two treacherous coastlines. When 10 men and a dog are caught in the eye of the storm, can a community save the day? The story of The Nornen is one of community spirit, true courage, and battling the waves. Featuring integrated British Sign Language, visual storytelling and live music, All Hands! is an original theatre production for the whole community. Cast: Kieran Buckeridge, Stephen Collins, Matty Gurney, Lucy Tuck, Chioma Uma and our wonderful community performers General Information This is an outdoor production at Marine Cove, so please come dressed for the weather. Seats are unreserved.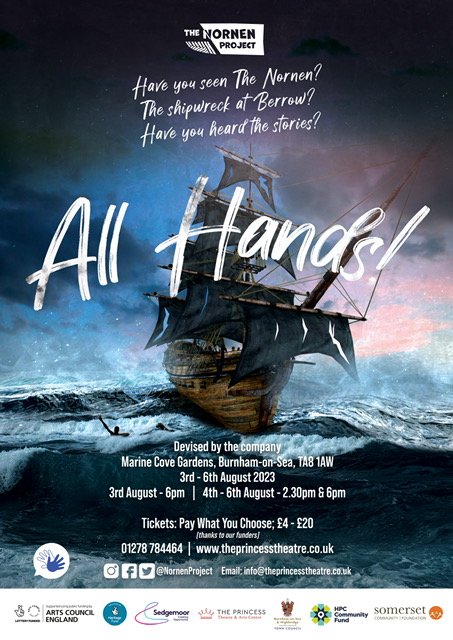 If you have any access requirements, please notify the Box Office ahead of the performance. Thanks to our funders, we have been able to subsidise the ticket prices to make sure that they're affordable, no matter what your budget. There's no difference in the experience, so please choose the price that best suits your budget.
Our performances are open to all, so if you have access requirements, please let the Box Office know. We understand that some people may find it harder than others to sit still for an hour, especially little ones, so please feel free to fidget and fiddle as much as you need to. Just watch out for roaming performers!
Producer, Corrinne Curtis; Director, Bryn Holding; BSL Co-Director, Lynn Stewart-Taylor; Community Director, Daniel Hawthorne; Designer, Sam Wilde; Composer, Arran Glass; Production Manager, Rachael Duthie; School Workshop Facilitator, Rachel Cohen; Marketing Manager, Nick White; Deviser, Megan Brooks.